THE CLASSIC BASKET


THE WINSTON BASKET

THE REGAL BASKET


Coal Baskets that Burn Gas

look and warmth of Victorian Coal Burning baskets

Coal Baskets simulate the effect of a more subtle real coal fire; reminiscent of a simpler more elegant time in our history.

The coals in the basket actually glow as they're warmed by the natural gas or propane burner, the flame pattern of VENT FREE COAL BURNERS is not as wide and the flame height is shorter, requiring much less gas to provide a realistic, appealing effect.

The Coal Baskets were first imported but soon the need for CSA certified gas coal grates for the US and Canadian markets made American production for Coal baskets necessary for this Southern US based family business.

Searching for antique grates and surrounds to be reproduced exclusively for their Coal Baskets, the company began to put together a product line of decorative, beautiful grates and accessories.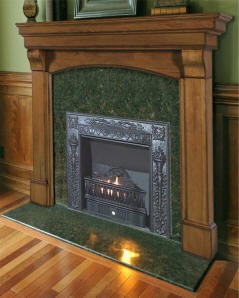 The fireplace has long been regarded as the focal point for any home, and in the late 1800's, coal fires were the height of fashion.
Even w
hen not burning, the decorative cast iron basket still look great in your fireplace!
Gas coal fires are found in the finest homes in Great Britain, the US and Canada as well as in centuries old Public Houses, Castles and Palaces. They are easy to install and can be taken with you should you decide to move.

Vented coal Baskets have been around for many years. "Vented" literally designates the requirement of that gas coal basket to be installed in an approved vented real working fireplace or an approved (certified) manufactured vented fireplace system (vented box).


Typical features of vented coal baskets are:
more choices in coal grate styles and flame appearance available
less restrictive clearance requirements to mantels above
must be installed in approved and working fireplace with chimney
all products of combustion must be vented out of the house
Most heat will be vented to outside
typically has larger flame and higher gas consumption
good choice where appearance is of prime importance
can be used in areas like bedrooms where vent-free coal baskets are prohibited
Vent Free Coal Baskets have recently evolved to a state of design, function and safety that have made them highly popular for both older homes with pre-existing small coal burning fireplaces or for the new construction market.
Typical Features of the Vent Free Coal Basket are:
Energy efficient - (Heat stays in the home)
Does not require a working chimney
Can be installed in approved vent free fireboxes for new construction
glowing embers
less gas consumption and smaller flame
inexpensive way to create a working Victorian fireplace look in new construction or remodel work where existing chimneys are no longer safe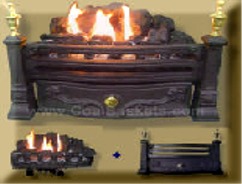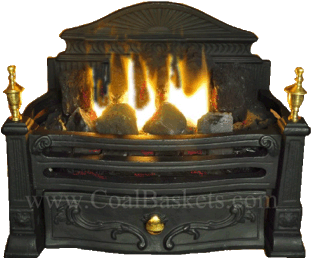 Special features include easy to operate controls and optional remote, the very latest in flame supervision devices and a piezo spark igniter to give instant response. A pilot position on the controls makes lighting quick and easy. Our Ceramic Coals radiate heat from a large surface area and all control knobs are concealed by a decorative cover plate. Our burners are available in several sizes and can be used in some cases with an existing grate.
Safety is assured with our CSA certified burners and Zero Clearance Fireboxes.
Vent Free and vented Burners are available in either Natural Gas or Propane. We offer both vented and vent-free units for new construction as well as for use in existing fireplaces.
This simple but elegant coal grate is an authentic late Nineteenth Century reproduction found in a Georgia Victorian Cottage and has been manufactured exclusively for this Atlanta company for over 8 years. The Coal Basket is made of cast iron with a satin black finish. Don't be fooled by imitators, there is only one Coal Basket basket with these features, flexibility and appeal of this product. Truly hand built and individually tested one at a time in the hometown known for its southern charm and elegance.
DIMENSIONS: 19" wide front, 13" wide back, 9.5" deep, 14" high.
Many styles and features can be found in gas coalbaskets from other manufactures in the USA and Canada. Some Coal grates feature remote electronic ignition and high low flame control all from the convince of

the hand held remote.
Other Coal Basket themed fire places include cast iron surrounds from the simplest to the most ornate. Styles and designs allow you to recreate the exact period look that will most closely reflect the decor of your authentic Victorian home or help you to create that Victorian appeal.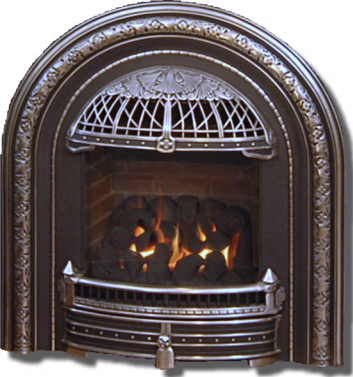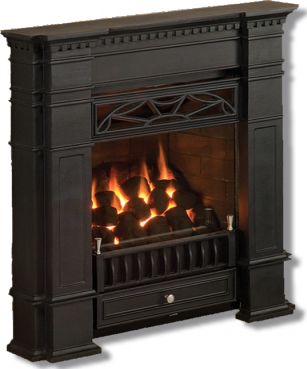 DIRECT VENT GAS COAL FIREPLACES
You have a third option!


If you like the idea of a vented fireplace but don't like the idea of loosing so much heat up the chimney consider a sealed combustion direct vent fireplace. The Valor line of Coal effect gas fireplaces offer the advantage of being installed in an existing masonry fireplace and lining the flue with an inexpensive DV flexible liner or installing as a new installation where no fireplace existed.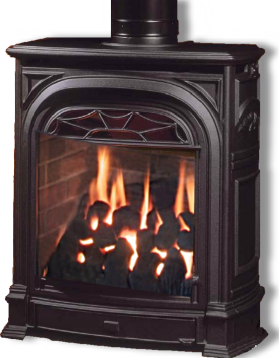 The Valor Portrait Series includes spectacular cast iron facing options inspired by Victorian-era homes. The Windsor Arch has exquisite detailing that will ensure that it is the focal point of the room and establishes the character of your home.
The Presidential fireplace is Valor's most versatile unit. Available in freestanding, built-in or as an insert. it is well suited for many applications.
The Senator Facing is somewhat similar to the President but is not available as a free standing stove.