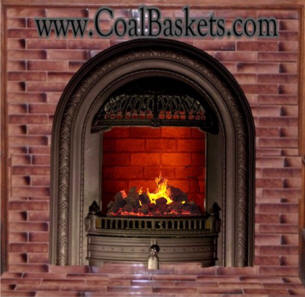 Electric Coal Fireplace insert with Cast iron Windsor Front
Features industries most life-like Coal Bed - Glowing log pieces and World's Most Realistic 3D Flames


Now Our Old Salem Collection features a long awaited Electric Basket option. Our exclusive Winston Electric coal-log incorporates the most amazing innovation in the fireplace hearth industry. By combining the new Opti-myst natural flame with a coal-wood basket we have brought a new option that solves nearly every installation problem.

Prepare to be amazed by Opti-myst. The revolutionary flame combined with glowing logs and fine water mist, produces dazzling realism.
Click on picture to to see the most realistic electric coal/wood insert you have ever seen!
We sell just the burner if you can use your basket or build into your own fireplace design.


Click Picture For Larger Image and More Info
Combine the Windsor
Fireplace Front
with the

Opti-myst

DFI400L
400MM
LOG EFFECT
Engine with

3D Real Flame Look




YOUR COST $1999.00
Optimyst

DFI400CHLINEAR EFFECT
Engine
With

STONES


CLICK PRICE TO ADD TO
Optimyst

DFI400CHLINEAR EFFECT
Engine
With

Coals




Opti-Myst Product Line Literature
PDF

Service-Manual
PDF

Installation-Owners Manual
PDF

Click For Details and Specification